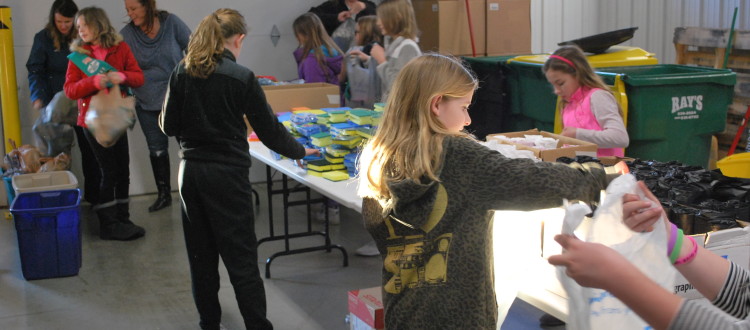 In the image above the Girl Scouts from Troop 841 and their leaders again helped out with the packing some of the cleaning supplies for the Open Doors Spring Cleaning Baskets. They are a great group of girls with boundless energy and enthusiasm that made short work of the project!
Open Doors Pantry Spring Cleaning Basket Give-away
THINK SPRING! 
Each year during the month of April, the Open Doors Pantry provides a laundry basket full of cleaning supplies to its' clients. These are items that our clients cannot purchase with food stamps or other govt. assistance. This give-away is much anticipated and appreciated by Open Doors clients. 
While you are food shopping or shopping for your own cleaning supplies, pick up some cleaning supplies for those who can really use the assistance. We will be collecting cleaning supplies from January through March.
Donations can be dropped off at the Pantry Tuesday, Thursday, or Saturday from 9:00am to 12:00pm, or anytime in the Donation Box at the Pantry. They can also be dropped off at First Merchants Bank on Main St. during February, or at the Teachers Credit Union on Main St. during March. 
Below is a list of cleaning supplies we are in need of:
Dish Towels – Dish Cloths – Sponges – Scrub Sponges – Scrub Pads – SOS Pads – Laundry Detergent – Fabric Softener(Sheets or Liquid)
– Bleach-Dish Soap – Scouring Powder – Soft Scrub -All Purpose Wipes – Disinfectant Wipes – All Purpose Cleaner(PineSol)
– All Purpose Spray Cleaner – Disinfectant Spray Cleaner -Toilet Bowl Cleaner – Bathroom Spray Cleaner – Window Cleaner
"THINK SPRING", and be generous in your giving.
Questions can be directed to Bruce Watson at (317)443-3101 or at bruce@westfieldconsult.com.