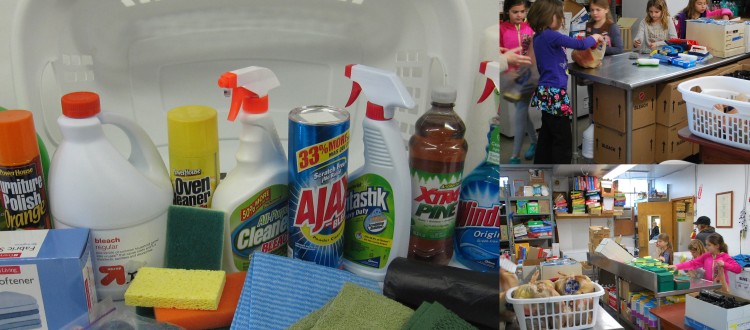 Open Doors Pantry Spring Cleaning Basket Give-away
THINK SPRING! 
Each year during the month of April, the Open Doors Pantry provides a laundry basket full of cleaning supplies to its' clients. These are items that our clients cannot purchase with food stamps or other govt. assistance. This give-away is much anticipated and appreciated by Open Doors clients.
The Girl Scouts helped out in a BIG way with the Spring Cleaning Basket program again this year. Not only did they collect a variety of products, but they donated all the remaining quantities of two of the cleaning products. Then, Becky Garver brought her Troop and their moms to pack the small cleaning products into grocery sacks, later to be loaded into the baskets. We are very grateful for their loyalty and support of the Pantry.
While you are food shopping or shopping for your own cleaning supplies, pick up some cleaning supplies for those who can really use the assistance. Supplies can be dropped off at  the Pantry on Tues., Thurs. or Sat. between 9:00 and Noon.
"THINK SPRING", and be generous in your giving.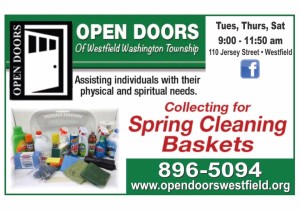 I
Questions can be directed to Bruce Watson at (317)443-3101 or at bruce@westfieldconsult.com.