---
Kroger Drivers & Helpers Needed
Open Doors is in need of volunteers to help with the Food Rescue at Kroger. This
is a critical program for Open Doors as it supplies our clients with fresh produce
and meat, along with baked goods and deli products.
We pick up at the two Kroger stores every day of the week and currently have
openings on Sunday and Monday mornings. The time commitment is approx. 1hr
45 min. from 8:45 am to 10:00 am.
If you are interested, please call or text Bruce Watson at 317-443-3101.
---
Open Doors is Adding Additional Hours to better serve its' clients. Beginning Monday, October 12 the front room of the Pantry will be open to clients from 4:30 PM to 6:30 PM. All the foods and clothing in the front room will be available. Honoring Covid-19 protocols, only 4 people at a time may shop, and masks must be worn. No children please.
---
Margie Smith Receives Lions Award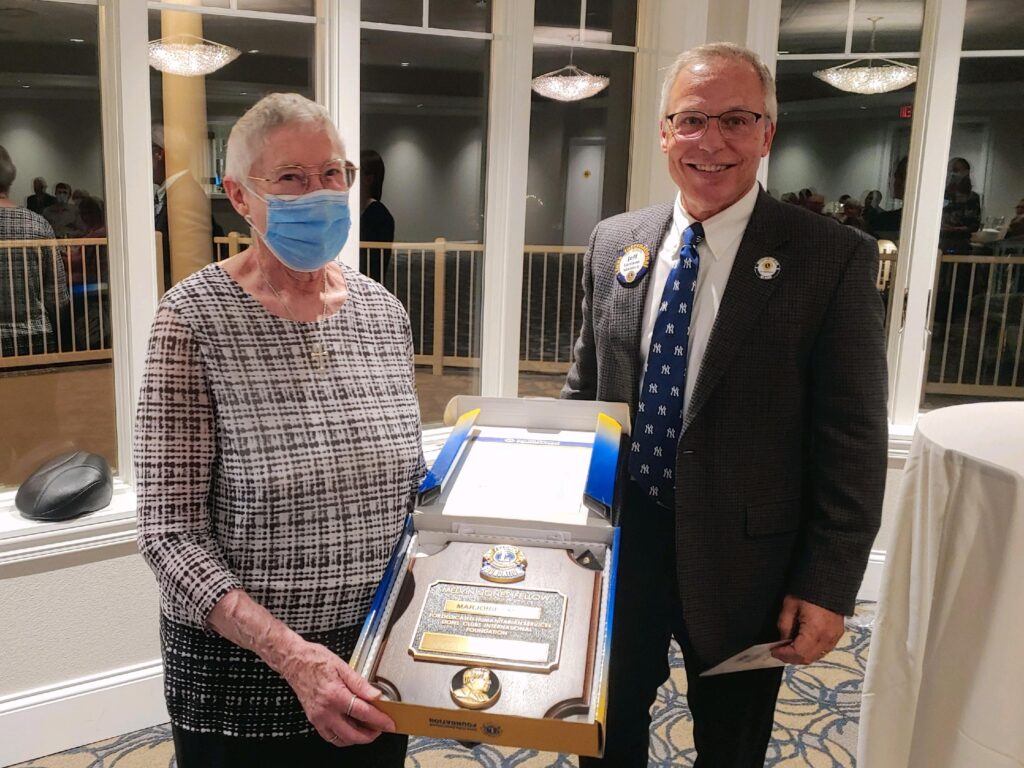 Margie Smith received one of the Lions Club's top honors, The Melvin Jones Fellowship Award, at their 90th Anniversary Celebration Saturday Night, for her tireless service to the Open Doors Pantry and the Westfield community. She began her service in 1996 and continues today as the Pantry's Food Coordinator. She is a member of the Board of Directors, and is involved in just about every part of the Pantry's operations. We are very proud of Margie and for her receiving of this honor.
PANTRY UPDATE
WE ARE OPEN WITH NEW PROCEDURES.
The Open Doors Pantry remains open during these difficult times for Westfield families. If you are an existing client, come in for your regularly scheduled monthly shopping visit, or for a weekly "Front Room" visit anytime we are open; Tues., Thurs., or Sat. from 9:00 to 11:45 and Monday 4:30PM to 6:30PM. If you are not a client, but need food, stop by the Pantry on the days we are open, and we will provide you with a bag of food.
NEW PROCEDURES:
Only 4 clients will be allowed into the building at one time. No children will be allowed in the building. Everyone must wear a mask, and will be given a pair of disposable gloves upon their arrival. Clients will be given 15 min to shop front room and clothing area.
When one family leaves the building, the receptionist will signal the next person to enter and begin the 15 minute shopping time.
If a client is there to see the advocate, they see the advocate first and then shop the front room and clothing for 15min. They will be asked to return to their car until their grocery order is ready for pick up.
Stay Safe & Stay Well! Keep wearing a mask, maintain Social Distancing, and wash your hands or use hand sanitizer often.
FOOD & CLOTHING DONATIONS
Our donation box is once again available to accept your donations as of June 12. As always, your monetary donations are also welcome. This allows Open Doors to purchase the specific foods that we run short on, as they are needed. Just go to our website and click on a donation button and follow the instructions. ( opendoorswestfield.org ) Thank you. We continue to need your support.
As our Clothing Pantry has reopened during these difficult times, we are finding that there is even a greater need for good quality, clean clothing donations. We are grateful for the donations that are again coming in to augment our client families' clothing needs. Please be sure to donate only clothing that is clean and of good quality. Clothing that is soiled, torn, or excessively worn is not made available for our clients, and is taken to Goodwill. We make every effort to honor the dignity of our clients, by only providing high quality, clean clothing in our Pantry. For the protection of our volunteers and clients, we ask that all clothing be washed and packed in plastic bags, tied at the top. Thank you for your thoughtfulness and consideration.
Stay in as much as you can, socially distance and wear a mask when you are out in public. Stay well!
God's blessings to everyone!