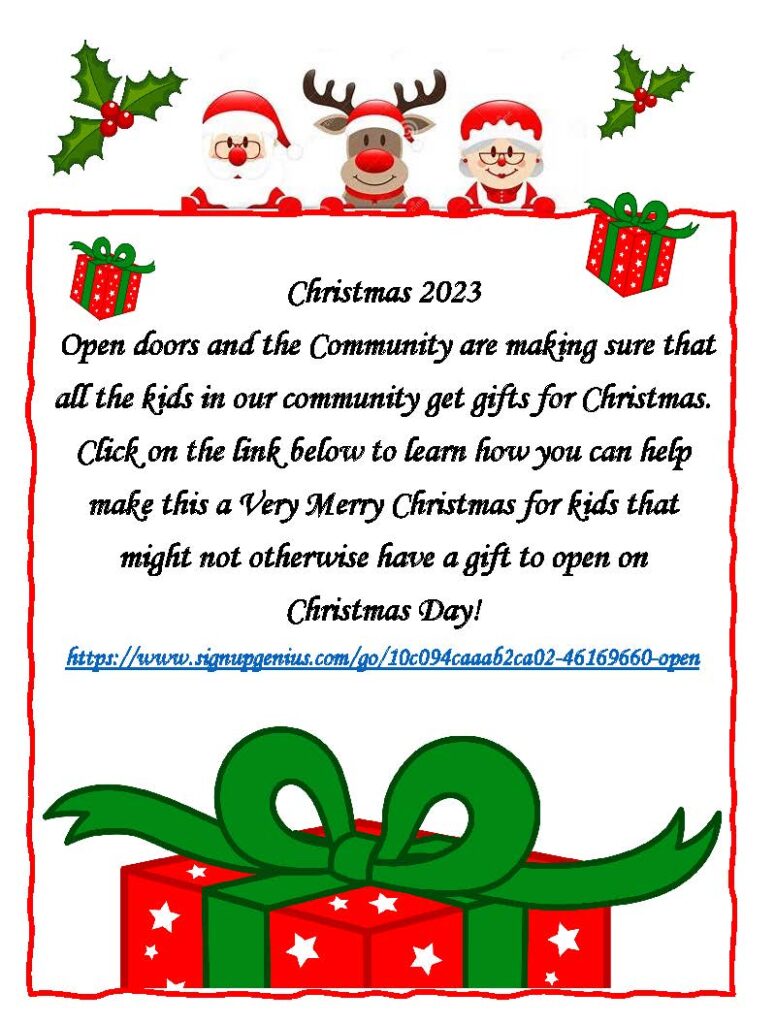 ---
Back to School
August 5, 2023
Ongoing Need
(Thanks for all the Donations that have come in. The Need is still there.)
Peanut Butter
Beef Stew
Chicken Noodle Soup
Vegetable Soup
All Canned Vegetables
Mandarin Oranges
Fruit Cocktail
Pancake Mix
Kids Weekend Food Bag Needs
Open Doors provides Food Bags for weekend meals to 175 school kids from food insecure families in our community. Will you please donate the foods listed below? Those items in red are the most needed. Drop off your donations anytime in the donation box on the side of our building.
Your donations will ensure that these kids don't go hungry on the weekends when they are not getting free meals at school. Thank you for your generosity.
Non-refrig Yogurt Pouches

100% Juice Boxes (no added sugar)

Pop tarts*

Canned Pasta meals without meat*

Protein Bars

Horizon Milk (Individual Boxed)

Crunchy Granola Bars

Canned Pasta meals with meat*

Chewy Bars

Cereal (Individual Servings)*

Individual raisin boxes

Microwave Popcorn*

*Most Needed Items

 

Mac & Cheese cups or Easy Mac pouches*

Goldfish/Chees-its

 
Drop off at Pantry anytime.
---
PANTRY UPDATE
WE ARE OPEN WITH NEW PROCEDURES.
The Open Doors Pantry remains open during these difficult times for Westfield families. If you are an existing client, come in for your regularly scheduled monthly shopping visit, or for a weekly "Front Room" visit anytime we are open; Tues., Thurs., or Sat. from 9:00 to 11:45 and Monday 4:00PM to 7:00PM. If you are not a client, but need food, stop by the Pantry on the days we are open, and we will provide you with a bag of food.
NEW PROCEDURES:
Only 4 clients will be allowed into the building at one time. No children will be allowed in the building. Clients will be given 15 min. to shop front room and clothing area. One client will meet with the Advocate while the others shop.
When one family leaves the building, the receptionist will signal the next person to enter and begin the 15-minute shopping time.
If a client is there to see the advocate, they see the advocate first and then shop the front room and clothing for 15min. They will be asked to return to their car until their grocery order is ready for pick up.
Stay Safe & Stay Well! Keep wearing a mask, maintain Social Distancing, and wash your hands or use hand sanitizer often.
FOOD & CLOTHING DONATIONS
Our donation box is available to accept your donations. As always, your monetary donations are also welcome. This allows Open Doors to purchase the specific foods that we run short on, as they are needed. Just go to our website and click on a donation button and follow the instructions. (opendoorswestfield.org) Thank you. We continue to need your support.
As our Clothing Pantry has reopened during these difficult times, we are finding that there is even a greater need for good quality, clean clothing donations. We are grateful for the donations that are again coming in to augment our client families' clothing needs. Please be sure to donate only clothing that is clean and of good quality. Clothing that is soiled, torn, or excessively worn is not made available for our clients, and is taken to Goodwill. We make every effort to honor the dignity of our clients, by only providing high quality, clean clothing in our Pantry. For the protection of our volunteers and clients, we ask that all clothing be washed and packed in plastic bags, tied at the top. Thank you for your thoughtfulness and consideration.
God's blessings to everyone!
Current Needs – Clothing
Looking for volunteers to sort clothes on a regular schedule.
Contact Kurt Wanninger at 317-538-1891
Volunteer Today
Become a part of our family. Together we can help our food-insecure families to get through these difficult times.
Currently looking for warehouse volunteers. Learn more under the How to Help tab.