Open Doors Recent News & Stories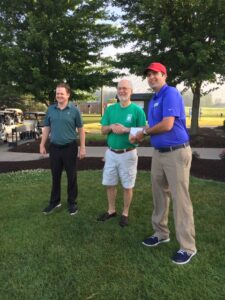 The Sr. Golf League voted to donate a % of their prize money to the Open Doors Pantry. The Cohoat and O'Neil Golf Management company matched the donation.
Elliott Elger, Golf Pro, and Collin O'Neil Presented a $500 check to Bruce Watson at their golf match Monday, June 29.
Back to School Backpacks
Back to School was a huge success again this year. Open Doors supplied a package of socks, underwear, a new t-shirt or top, a $20 Walmart shoe voucher, backpack, and specific grade level school supplies to approximately 200 Westfield students. An additional 75 filled backpacks were given to Student Impact and Westfield Youth Assistance by Corbin Bender, an Eagle Scout working with BTS for his scout service project. We were very blessed this year to have over 300 backpacks donated to Open Doors.
Joe and Alice Trentman Receive Volunteers of the Year Award
On September 20, the Westfield Chamber of Commerce awarded the Trentman's for their many years of service to the food insecure of Westfield. Alice began serving at the Open Doors Pantry in 1993 and created many of the programs that the Pantry provides to its' clients to this day. Joe helped out until he retired from his career in construction, when he began serving full time beside Alice. Their names had become synonymous with Open Doors. They both deserve our heartfelt Congratulations. The Trentmans retired from their active roles at the Pantry as of Oct. 1, at the age of 80! We all wish them a happy and healthy retirement.
Volunteer Appreciation Picnic 
Each year Open Doors honors its' many volunteers with a picnic at Quaker Park. The picnic features Big Hoffa's pulled pork, baked beans, coleslaw and drinks. Everyone brings an appetizer or a dessert to share, and there is always a delicious and ample assortment of foods. Approximately 40 people attended on a perfect early fall day. We are so appreciative of the almost 100 volunteers that selflessly provide their service week in and week out, so that those less fortunate in our community can have enough food to feed their families.
Retired Founder
Marilynn Bell, one of the founders of the Open Doors Pantry, retired as an Advocate on Thursday, Oct. 3, after 29 years of service. She was honored with a luncheon attended by her fellow Advocates and Board members. Marilynn is 86 years old. She has been a real blessing to the Pantry and its' clients. We wish her well and good health in her retirement.
Local Business Supports Open Doors in a Big Way!
At AgReliant Genetics, we are committed to farmer success and protecting the health and well-being of our employees, our customers and the people living in our communities. Because of that, our employees are highly engaged in the local economies and always looking for ways to a make a positive impact through monetary, in-kind and volunteers donations.  With that said, we were extremely happy to partner with Open Doors located here in Westfield, by holding a focused mid – summer food drive to restock the kids backpack food program and general needs of the pantry.
We collected food for a 2 week period and using the Amazon Prime Day, we saw the opportunity to create the lists of food items that were on sale and needed by Open Doors.  We also held a competition among all of the departments and created a display by department as food was being collected.  We also created a traveling trophy that will be used annually in our donation activities.
We were excited to partner with Open Doors and over all we collected over $3,000.00 in food items.. Open Doors weighs all food and counts all non – food items.  We were informed that we collected  1,205 pounds of food as well as 85 non-food items.   Open Doors Volunteer and AgReliant Employee used the Open Doors Van to load up the donations on Friday, July 26th and take them to the Open Doors Food Pantry with assistance from staff to load and unload at the pantry.
Thank you to Open Doors for hosting a pre-food drive tour of the facility as well as providing an essential need to many clients in Washington Township.  We look forward to continued partnership.
New Food Donation Van
Open Doors has just replaced our aged 2002 van that has been in our use for over 10 years. Through the use of financial reserves and turning Kroger Points into cash, we were able to purchase a used van in excellent condition and add our Open Doors branding on the side and rear panels. This van will satisfy our needs to pick up rescue food donations from Kroger and make runs to the Midwest Food Bank, among the many other things for which a van is needed, for many years to come.
Westfield Intermediate School Annual Food Drive
Westfield Intermediate School conducted their annual food drive for Open Doors Pantry. They collected over 7800 lbs. of food.
Daisy Troop 4366 Weekend Backsacks Collection
The Daisy Troop 4366 from Carey Ridge Elementary School, collected food for our weekend backsacks. They brought their donation to the Pantry, weighed it, and sorted it. The girls received a tour of the Pantry and then Volunteer Marsh Evans gave the girls some instruction on the Pantry as they sat in the warehouse.
Girl Scout Troop 221 Weekend Backsack Collection
Girl Scout Troop 221 from Oak Trace Elementary School collected food for our weekend backsacks. They brought 277 lbs. of food, weighed it, and sorted it into totes. The girls did a great job and also received a tour and some instruction on how the Pantry helps many people in our community.
Boy Scout Troop 107 "Scouting for Food"
The Boy Scout Troop 107 conducted their annual fall "Scouting for Food" drive on Saturday, November 3rd. They had a very successful drive, collecting 1510 lbs. of food for the Pantry. We are very grateful for the Scouts and their leaders for their service to Open Doors and to our clients.
Oak Trace Elementary School Food Collection
The Oak Trace Elementary School 4th Grade classes conducted a food drive to collect food items needed for the Open Doors Weekend Backsack program. Each week Open Doors prepares bags of individual servings food and snacks for 58 Intermediate and Middle School kids that may otherwise not get enough to eat on the weekends.
Monon Trails Elementary School Donation
Monon Trails Elementary School 4th grade kids donated $500 of their proceeds from their Market Day fund raising project last spring. The kids chose Open Doors to be the recipient of their donation. They presented their donation to Bruce Watson, Board President, and were then given a tour of the Pantry.
Legacy Fund (a Central Indiana Community Foundation Affiliate) Announces Grant for Open Doors
The Legacy Fund Board of Directors has approved a grant to Open Doors of Washington Township Inc. in the amount of $3000.00 to support the Thanksgiving Meals project. The grant is being supported by the Westfield Fund ($1000), the Jack Arnold Russell Fund ($1000), and the Legacy Fund Community Endowment Fund ($1000).
The Open Doors' annual Thanksgiving Meals project supports over 200 families and over 800 total individuals each year as Open Doors volunteers guide and direct this annual project.
Newsletters
Board Minutes
April 2016
July 2016
October 2016
January 2017
April 2017
July 2017
October 2017
January 2018
April 2018
July 2018
October 2018
April 2019
October 2019